Cranidos
#
408
Pokémon
Cranioso
Tipo
Roccia
Abilità
Rompiforma
Altezza
0,9m
Peso
31,5kg
Cranidos è un Pokémon estinto di tipo Roccia, si evolve in Rampardos all'età di 30 ani.
Fisionomia
Edit
Cranidos è un cucciolo di dinosauro dalle squame di colore blu e grige, la schiena la coda e il capo sono blu, mentre il resto è grigio, su tutta la schiena e la coda ha dei punzoni bianchi anche dietro la nuca ha grossi spuntoni bianchi, gli occhi sono rossi e la bocca sembra una sorta di becco grigio, inoltre il capo blu ha la forma di una semisfera, i suoi arti superiori sono molto piccoli e hanno cinque dita, mentre quelli posteriori sono molto più grossi e robusti con tre grosse dita artigliate e un quarto dito atrofizzato e ricurvo.
Differenze fra sesso
Edit
Nessuna.
Abilità speciali
Edit
Cranidos mentre attacca può impedire al nemico di usare delle abilità che lo rende immune a certi attacchi, esempio, i nemici in grado di levitare (non volare o compiere grandi salti) per via dell'attacco non riusciranno a farlo e verranno colpiti da attacchi che hanno a che vedere con la Terra, o Pokémon che normalmente assorbono Acqua o Fuoco, non potranno farlo e verranno danneggiati. Inoltre il loro cranio è estremamente duro e può esercitare una pressione di 12.500 PSI come minimo.
Comportamento
Edit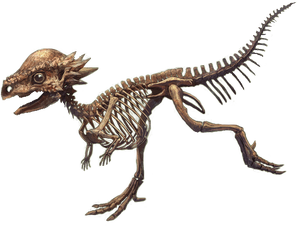 I primi fossili di Cranidos furono scoperti a Sinnoh alcuni decenni fa, loro sono molto lenti, infatti sembra che in antichità loro andassero in giro a branchi, ma tenevano tranquillamente il passo con gli enormi ma più lenti Rampardos. Dagli esemplari resuscitati è stato osservato che attaccano i nemici abbassando la testa e caricando con essa, se infuriati inoltre si sfogano abbattendo alberi a suon di capocciate.
Sono Pokémon eccezionalmente rari che vivevano nelle giungle tropicali di tutto il mondo, ora in natura quasi non esistono più perché estinti.
I Cranidos a differenza da quanto si crede sono erbivori.
I Cranidos sono basati su cuccioli di pachycephalosauri.
Origine del nome
Edit
Il nome deriva da Cranium (cranio).
Ad blocker interference detected!
Wikia is a free-to-use site that makes money from advertising. We have a modified experience for viewers using ad blockers

Wikia is not accessible if you've made further modifications. Remove the custom ad blocker rule(s) and the page will load as expected.